TECHNOLOGY THAT INSPIRES TRUST
The Starling system is a 100% non-invasive fluid management monitoring system that provides clinicians with the confidence to respond to ever-changing patient status and dose IV fluids according to patient response. Only the Starling system offers an accurate, reliable and non-invasive method to measure flow at the patient's core and deliver meaningful insights to guide clinical decision-making.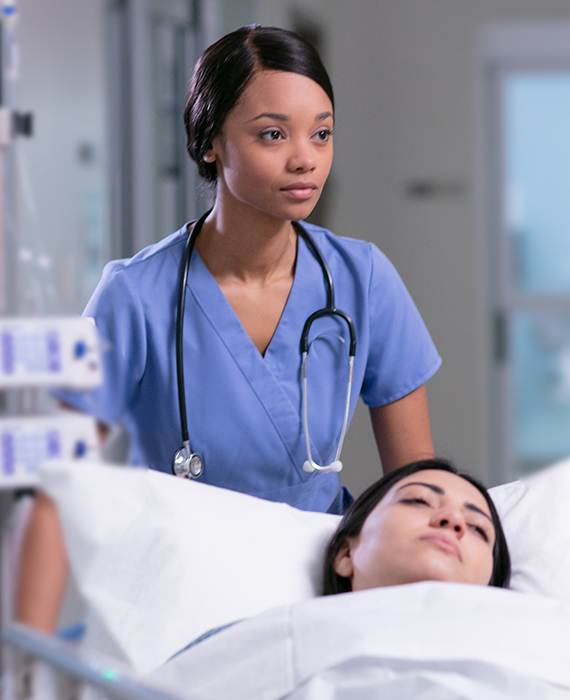 MORE INFORMED CLINICAL DECISION-MAKING
No matter the site of care or the clinical challenge, effective fluid management is integral to achieving optimal clinical outcomes. Until now, the only choices for obtaining accurate, continuous hemodynamic measurements were invasive technologies that each carry their own set of risks.
With the Starling system, clinicians have all the important parameters continuously at their fingertips. Clinical status and the effect of interventions can be monitored at any time and treatment modified accordingly.
The Starling system is easy to use, robust, flexible – and of course – 100% non-invasive
100% Non-invasive
Supports individualized fluid therapy without requiring an invasive arterial or central line, potentially reducing the risk of hospital-acquired infections and other complications1
Easy-to-perform dynamic assessments
• The Starling monitor guides clinicians through a step-by-step protocol for executing a passive leg raise or bolus test
• All information, including dynamic assessment results, is included on a single screen
• Enhanced algorithms enable a shorter dynamic assessment timeframe
Real-time, continuous information
Provides real-time, continuous information on Cardiac Index, Cardiac Output, Stroke Volume Index, Stroke Volume and Total Peripheral Resistance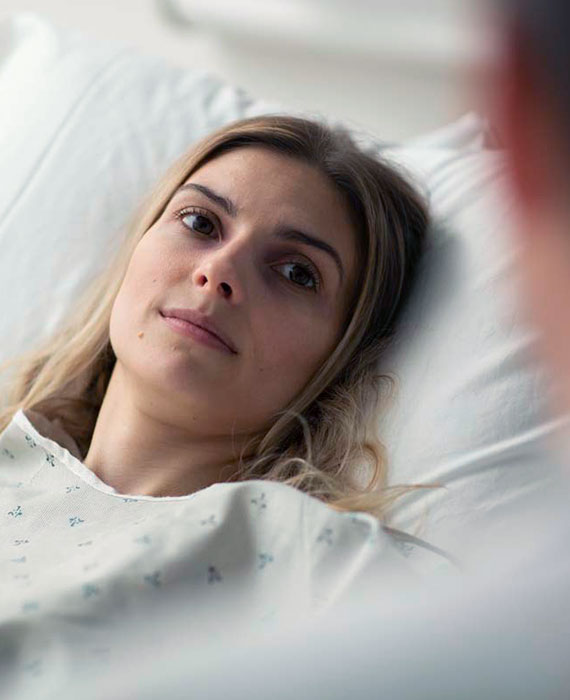 INTEGRATES AT EVERY STEP OF THE PATIENT JOURNEY
With easy setup and no invasive lines, the Starling system delivers quick access to real-time data to improve diagnostic precision and facilitate fluid management treatment, wherever the patient is in the hospital.
This includes supporting anesthesiology and surgical teams in the OR, emergency department and surgical ICU teams, and at-risk populations such as obstetric and renal dialysis patients. It works in both mechanically ventilated and spontaneously breathing patients,2,3 with no requirement to upgrade or change the monitor depending on severity of illness. The Starling system is designed to travel with the patient throughout the hospital and support the various healthcare teams on their care journey.
The Starling system is designed for use throughout your entire hospital, including critical care, operating room and ED settings.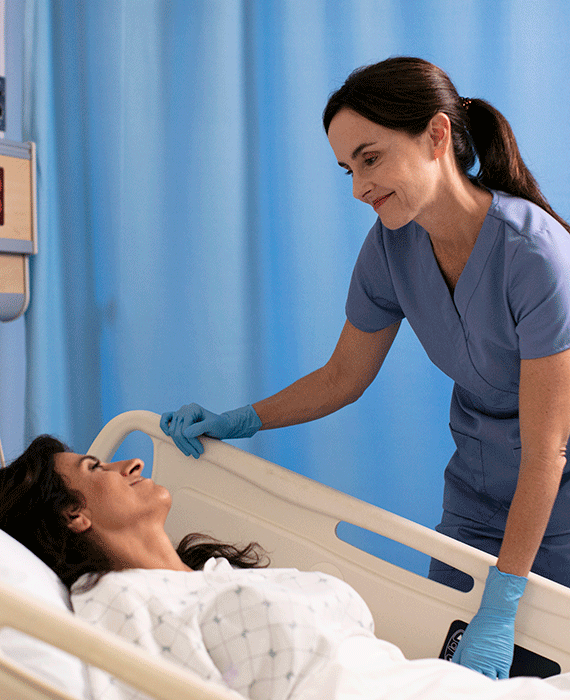 EASY-TO-USE, FLEXIBLE INTERFACE
A critical component of the Starling system, the monitor offers a simple and customizable home screen that provides users the flexibility to choose their preferred view and parameters to be displayed on the screen. These include Cardiac Index, Cardiac Output, Stroke Volume Index, Stroke Volume, and Total Peripheral Resistance, among other important parameters.
All information is provided on one screen, including dynamic assessment results, so users can quickly and easily assess if the patient is fluid responsive. When additional guidance is needed, Starling offers educational tools built right into the monitor — providing easy access to training videos, clinical tools and quick guides.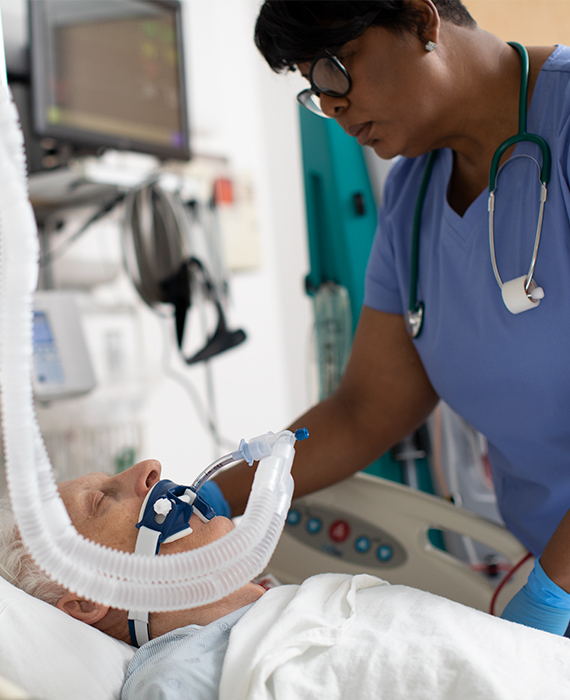 DETAILS THAT MAKE A DIFFERENCE
Portable and lightweight touch screen monitor
First results in approximately 48 seconds
Guides clinician through step-by-step protocol for executing a PLR or bolus test
User interface provides easy-to-read graphics and numbers with responsive touch control
Numeric display for charting provides real-time continuous data with option to select data displayed every minute, 5 minutes, 15 minutes or hour
Monitor fits on cart, table or IV pole
Battery operation
Seamlessly integrates with hospital EMR systems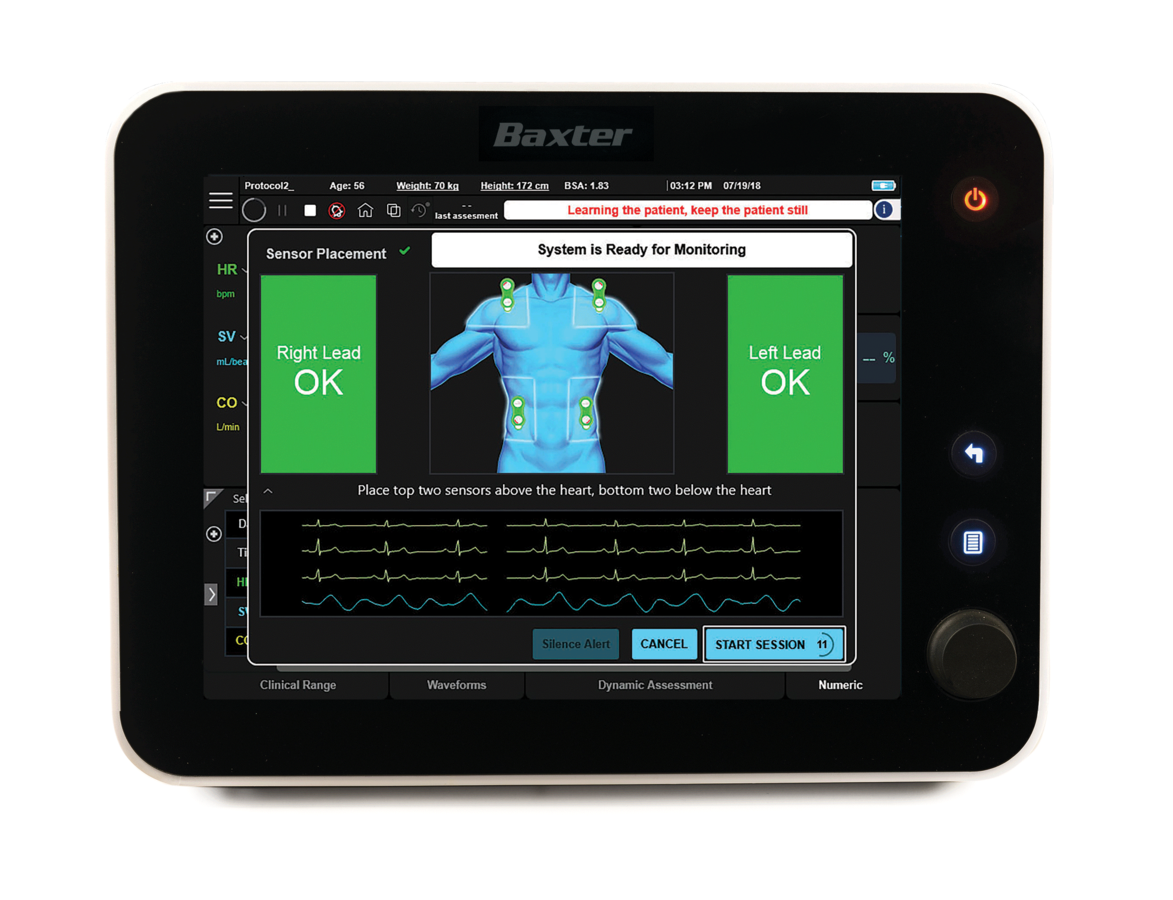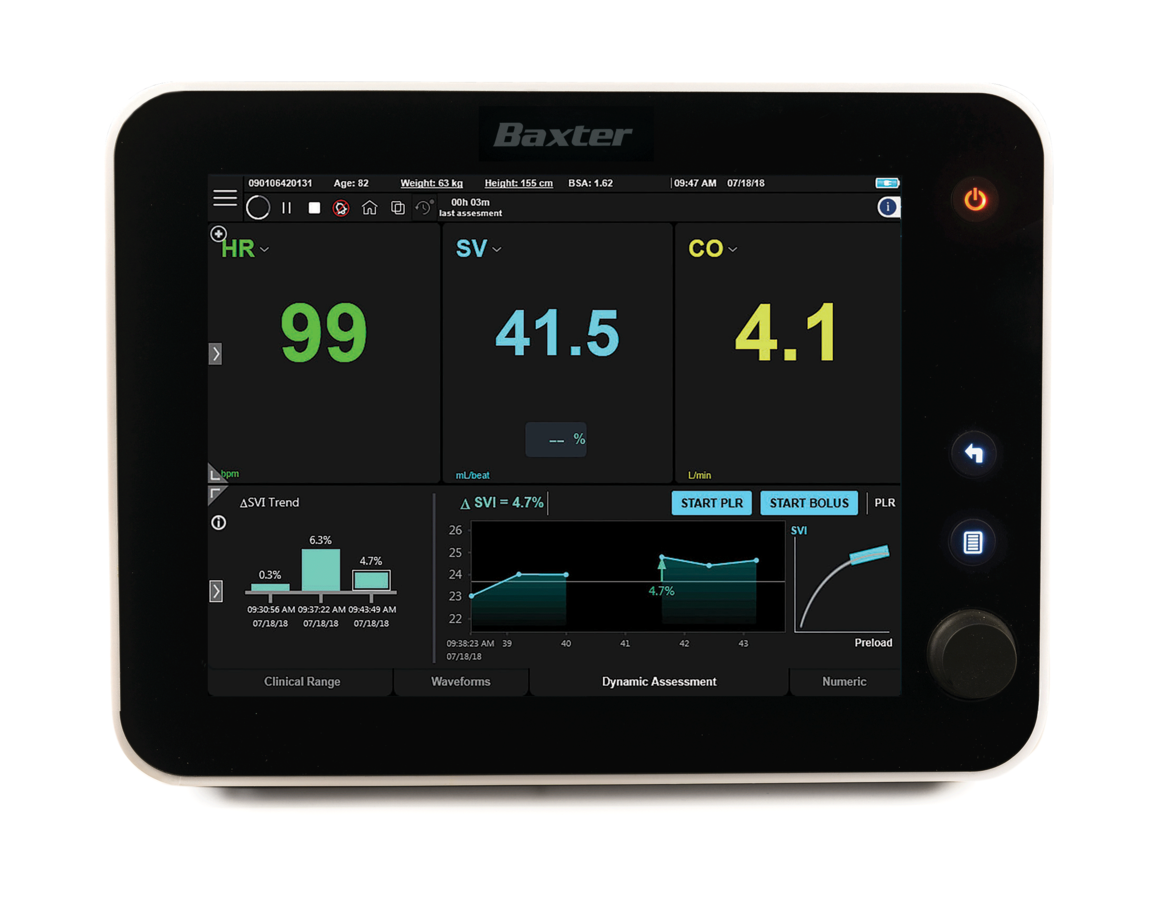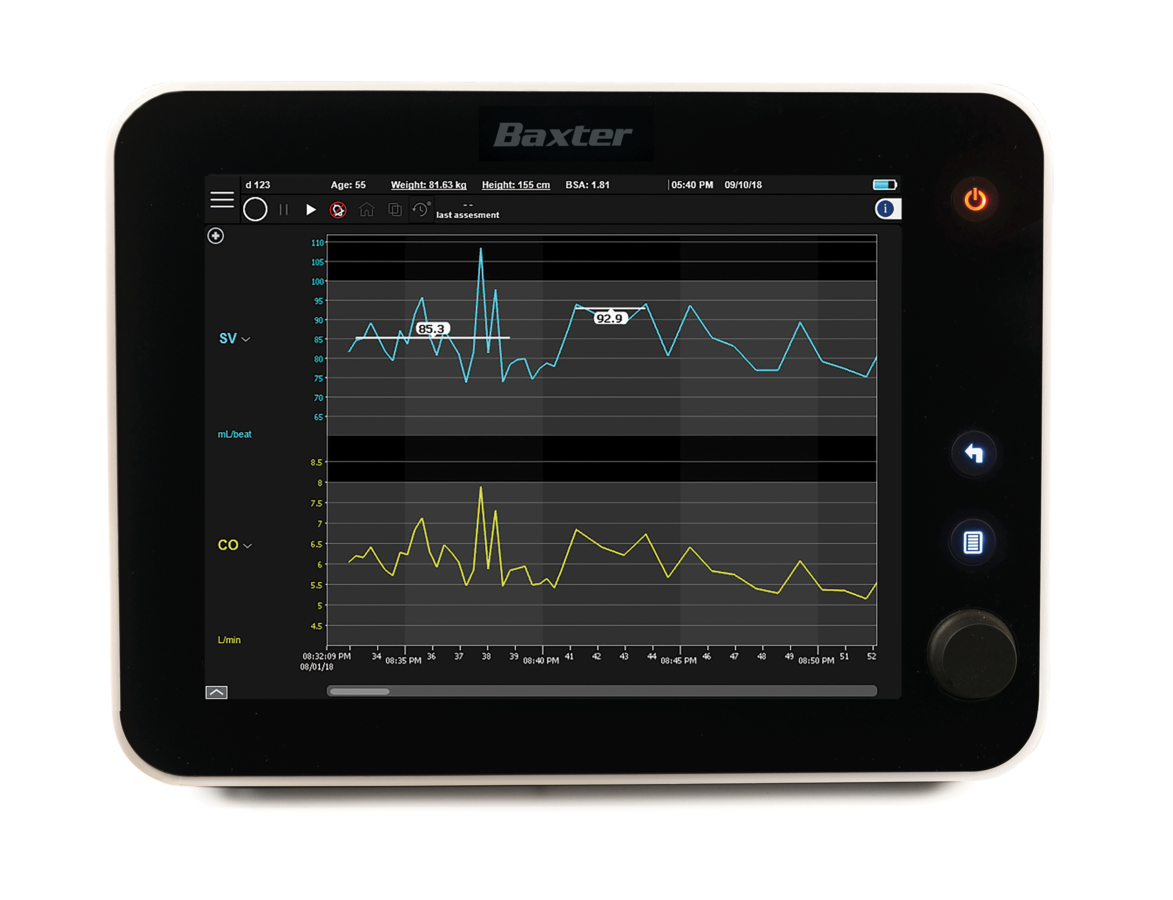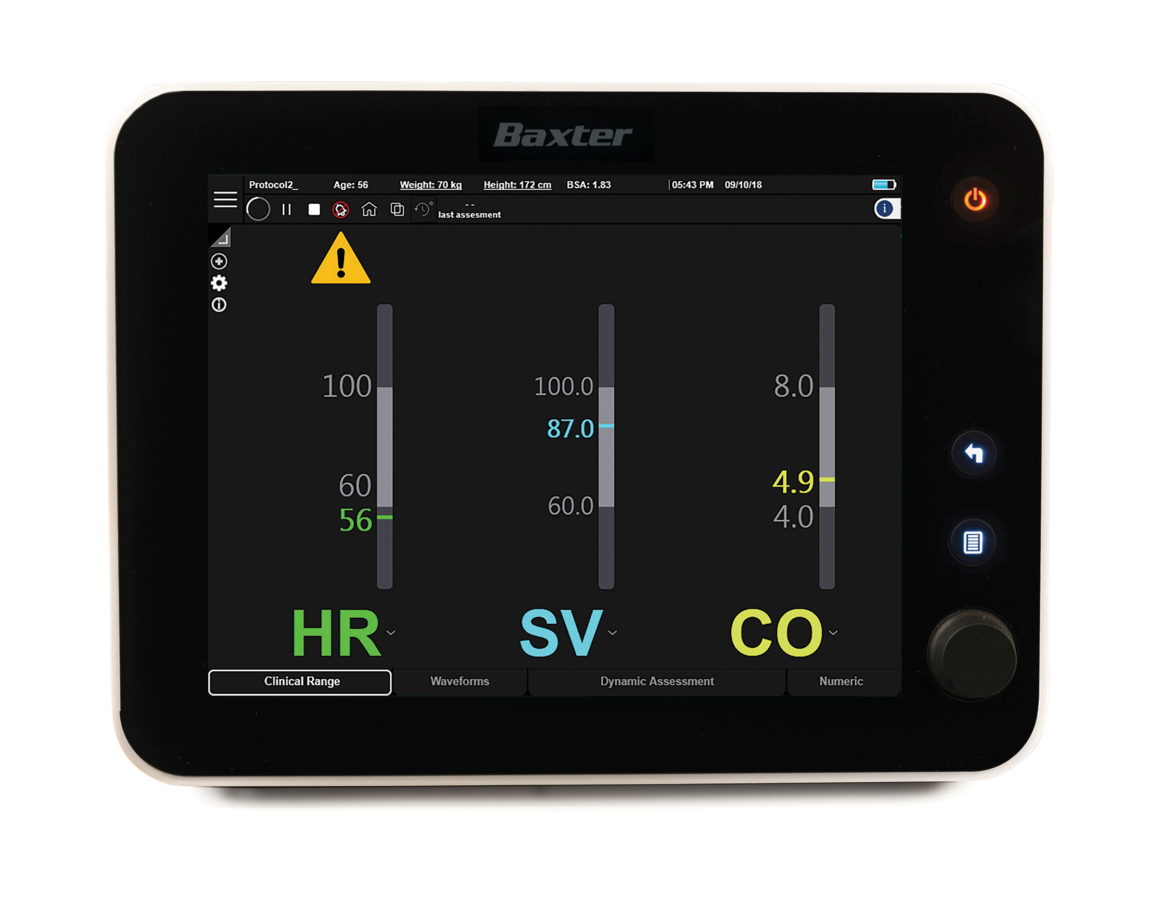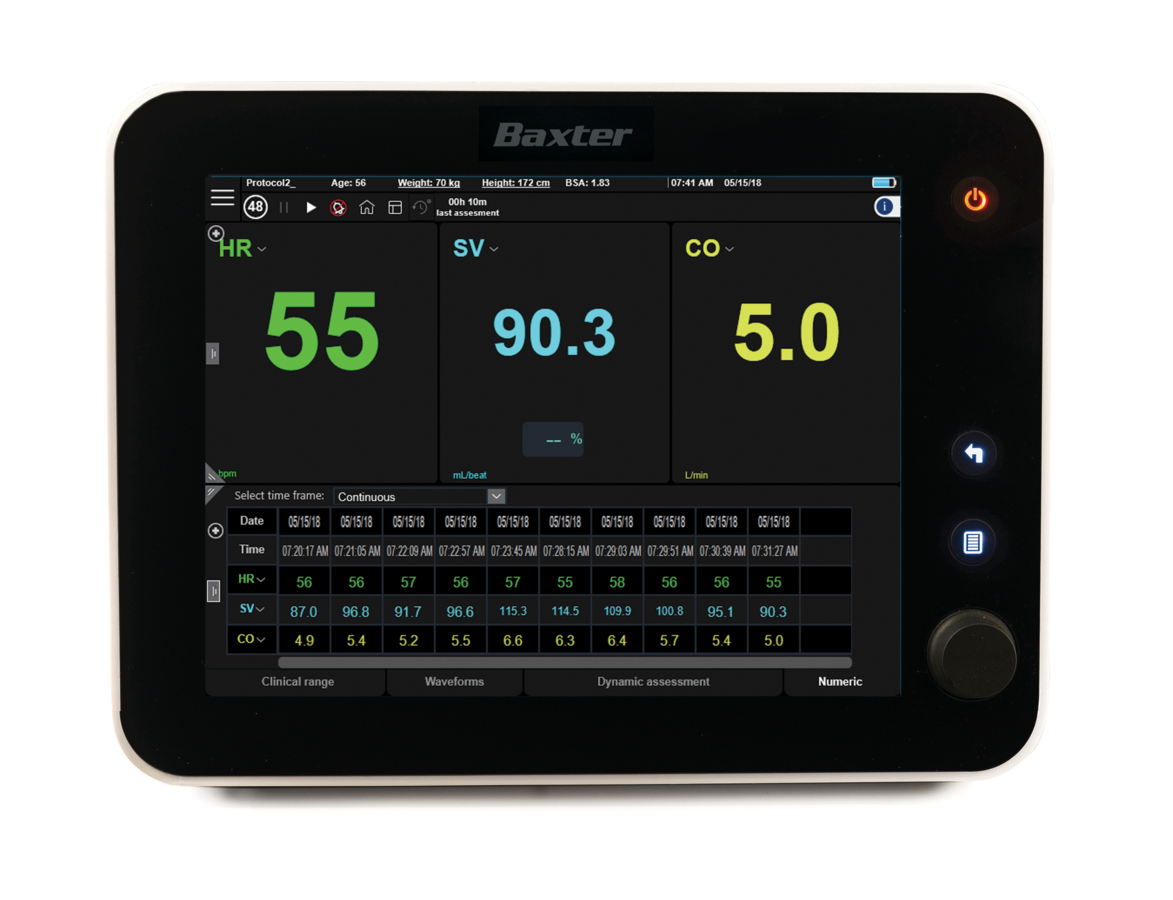 Starling sensors are 100% non-invasive and easy to apply, and they can be placed on the front or back of the patient as needed.
Rx only. For safe & proper use of the product mentioned herein, please refer to the appropriate Operators Manual or Instructions for Use.